---
This blog is a revised excerpt from:
Bansal-Tönz, Scharmila: Examinations of the songs of Purandaradāsa (1484 – 1564) and their modern reception in Indian dance Bharata Natyam. Zurich: University, 2018.
Dissertation at the University of Zurich, 2017
© Copyright by Sharmila Bansal-Tönz. All rights reserved.
---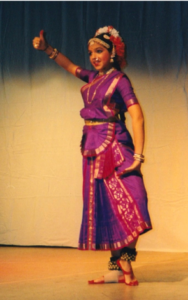 Modern Bharata Natyam is part of a South Indian performance culture that has developed a peculiar way of self-perception and self-representation in the past. This is due to the way in which this performance tradition reflects itself: it is an art with a partially reconstructed, partially ideologized history. It claims to be regarded as an elitist art form and builds on a historical idea of "Indianness". Therefore, in the art of Bharata Natyam there's a coexistence of emphasizing an idealized self-image and simultaneously referring to an authentic tradition of antique origin. It's a complex interplay of authenticity, ideology, classicism and history.1 The following remarks describe this artistic-historical conflict with the example of my own dance and music education.