In memory of B.K. Chandramouli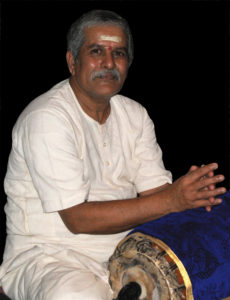 On 20 July 2018, one of the great Mridangam artists of classical South Indian music died. B. K. Chandramouli was a member of a great family of artists and a master of his craft.
In the mid-1980s, B.K. Chandramouli came to Switzerland for the first time as part of an invitation from my mother Vijaya Rao and her Indian dance school Nateschwara. Over the years their acquaintance grew into a good friendship. He therefore became a father figure to me and a loving teacher, whom I incredibly admire.
Chandramouli was a musician of the old guard, an artist generation dedicated to the lifeblood of art and tradition. But at the same time he was full of innovations. He was a left-handed Mridangist, a fact that his teacher had not changed. Instead he used it to his advantage. This was by no means common in those days, as left-handed Mridangam players were usually turned right to play. Chandramouli's powerful left-handed beat became famous over the years and became his trademark.
The rhythmic language Konnakol, was until then considered as by-product of the Mridangam play. Chandramouli developed it into a separate discipline. His Konnakol-demonstrations were among the most impressive of their kind. He had a wonderfully accentuated pronunciation in Konnakol. It was percussion with his mouth, so to speak. Today it would be called a kind of Carnatic beat-boxing. He was a incredible virtuoso in it.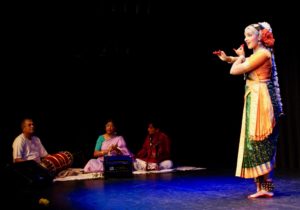 Chandramouli could have easily chosen a prestigious career as a concert musician. His reputation was so great in his early years that well-known solo artists wanted to play with him. He owed this also to his mother Rajamma Keshavamurthy, who is a renowned classical singer. She promoted her son. But Chandramouli was not the kind of musicians who decided on prestige and fame. He decided whom to work with according to your devotion to the art and your skills. If it was for a dancer, or for a famous singer, that was only second priority.
A Mridangist who can do both is by no means natural. I haven't met so far any Mridangists who were able to set the accents for dance steps just as well as accompanying the phrases of a classical music piece. It was easy for him to stay in the background in dance performances. Still, in the end he surpassed the whole ensemble. In music concerts he enraptured the audience with his charm, one could hardly wait for his solo to come. His versatility showed what a great artist he was.
In 1991, Switzerland celebrated its 700th anniversary with major festivals in various cities. In Baden there was a large cultural stage. Among other things, Chandramouli presented here a brilliant Mridangam solo. I sat next to him as a 10-year-old and had the great task to accompany his play with my beat. A huge challenge, because Chandramouli was a good mathematician and he loved to interleave rhythms endlessly and to dissolve them with a grande finale. To stay in rhythm and not to miscount was a huge task for me. I don't remember the performance, but Chandramouli mentioned this event every time we met again. I never got out of rhythm, he always praised while patting me on the back, as if he was proud of his own child.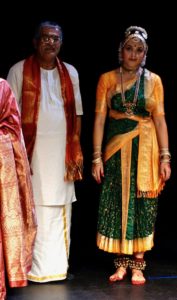 As a dancer, we had a chemistry that was just right. His play and my dance just fit together effortlessly. I was therefore very sad when Chandramouli was not the accompanying Mridangam player on my 1992 stage debut. Fortunately, I still had the opportunity to perform in tours with him several times. The last tour with him was probably the most important for me, because it was my own solo program, put together and organized by me. Chandramouli's recognition of this artistic project came one year later when he invited me to perform at a dance and music festival near Bangalore. He still met me with paternal authority, but at the same time as an artist at eye level. A recognition that touches me even today.
Chandramouli was not only a master of his craft, but also unusually well-informed about the historical developments of South Indian percussion. In conversations with him about my dissertation, I once again realized how great his expertise was. Despite all this, he remained modest, taught in his own music school in recent years, became involved in numerous music associations and organized many concerts.
Despite his traditional origins and his commitment to classical music, Chandramouli produced a cosmopolitan and unconventional Mridangist in his son Manjunath. Presumably, it was his innovative spirit that made his son redefine the boundaries of the Mridangam play over and over again. Manjunath, who is an incredibly gifted Mridangist and Konnakol artist himself, is now an internationally sought-after musician who has worked with musicians from all genres.
When I think of Chandramouli-Sir, I see his hearty laughter, which was infectious to everyone around him. I am grateful for all that he taught me.