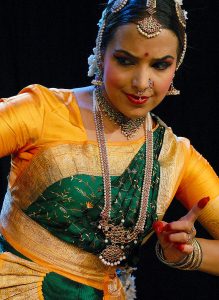 About me …
I was born in 1980 in a Swiss town called Baden. I was raised in a half-Swiss half-Indian artist family, surrounded by dance, music, meditation, in an environment that was infused with cultural and religious ideologies. My time as a teenager has been mostly taken by dance tours and performances. I did my homework behind stage curtains and spent most of my leisure time in dance practice. When I was 18, after gathering some experience as a stage-artist, I started teaching at the dance school of my parents. At the university, I studied Indology and Educational Science, thinking it would give me some additional background knowledge and complete my artistic skills. But I actually gained all that knowledge only after completing my studies, through my experiences as a dancer, teacher and mother – and most importantly through my PhD thesis, which has made me even more mature as an artist. Meanwhile, I work as a freelance dancer and dance teacher in the area of Zurich.
My vision …
Bharata Natyam is an intelligent dance form in every respect, that's my personal belief. The future lies in its sustainability, that's my vision. Intelligent dancing – to me this means…
… To follow the intelligence of our anatomic structure, in order to support the kinetic foundation of healthy dancing.
… To advance the tradition through findings in modern science, in order to create a goal-oriented and sustainable dance education.
… To connect with Bharata Natyam artists, to support each other and establish a network of Indian dance artists in Switzerland.